Click on the thumbnail to open the full size photo.
Click any of the thumbnails above to view the full sized photo in a lightbox.
Once opened, click on the right or left side of the images to scroll through the other images above.
Utricularia subulata
ZIGZAG BLADDERWORT
Florida native
A common carnivorous plant of wet flatwoods throughout most of Florida. The range includes all of the southeastern United States west into Texas and Oklahoma, plus California, Indiana and Michigan and up the eastern seaboard to Pennsylvania, New York and Massachusetts. Also occurs in Nova Scotia.
This minute wildflower grows mostly underground, with a thin bronze colored scape that extends up to 20 cm (8 in.) tall. The irregularly shaped flowers are usually yellow, although sometimes pale and whitish, and up to 1 cm (less than a half inch) long. Leaves are not readily evident and are usually at or below the surface of the wet soils. The finely dissected leaves have minute (0.5 mm) bladders that trap prey such as protozoa and rotifers for nutrition.
---
Utricularia subulata is a member of the Lentibulariaceae - Bladderwort family.
---
Other species of the Utricularia genus in the Wild Florida Photo database:
View Utricularia resupinata - LAVENDER BLADDERWORT
View Utricularia cornuta - HORNED BLADDERWORT

---
Native Florida Plants
Robert G. Haehle; Joan Brookwell
Low Maintenance Landscaping and Gardening

Purchases of this ebook made by clicking the image link below help support this website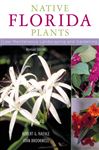 Native landscapes are easier to maintain, use less water and thrive without chemical pesticides and fertilizers. Native Florida Plants describes every type of regional flora—-from seaside foliage and wildflowers to grassy meadows, shrubs, vines, and aquatic gardens—-in 301 profiles and accompanying color photographs.
---