Click on the thumbnail to open the full size photo.
Click any of the thumbnails above to view the full sized photo in a lightbox.
Once opened, click on the right or left side of the images to scroll through the other images above.
Callicarpa americana
AMERICAN BEAUTYBERRY
FRENCH MULBERRY
BEAUTYBUSH
Florida native
A common shrub of flatwoods, hammocks and along wooded road edges throughout all of Florida, including the keys. The range extends throughout the southeast, west into Texas, Oklahoma and Missouri, and north into Tennessee, Virginia and Maryland.
This multibranched deciduous shrub displays distinctive clusters of magenta to deep purple berries in the leaf axils from late summer through fall. Growing to 2 m (6-1/2 ft.) tall with clusters of small pinkish flowers in the leaf axils from late spring into summer. Leaves are opposite, simple, ovate, with crenate to serrate margins from below the midpoint to the tip. The leaves are aromatic when bruised. Both surfaces of young leaves, and the lower surface of older leaves are covered with star-shaped hairs.
Beautyberry makes an excellent landscape plant as it is tolerant of many conditions and transplants well. The abundant fruit is attractive to wildlife, especially birds.
---
Callicarpa americana is a member of the Verbenaceae - Verbena family.
---
The Shrubs & Woody Vines of Florida
Gil Nelson
This volume - a companion to The Trees of Florida - is the first comprehensive guide to Florida's native and naturalized woody shrubs and vines.

Purchases made by clicking the image link below help support this website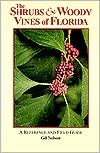 This book is organized as an easy to use field guide so that even a beginner can learn to identify plants. The line drawings that show a combination of typical leaves, fruits, and flowers, and the color photos, in combination with the detailed descriptions, are helpful in identifying species in the field. Useful information about using these plants in urban and suburban landscapes help make this guide useful to landscape architects and weekend gardeners, as well as the naturalist.
---