Click on the thumbnail to open the full size photo.
Click any of the thumbnails above to view the full sized photo in a lightbox.
Once opened, click on the right or left side of the images to scroll through the other images above.
Spiranthes odorata
FRAGRANT LADIESTRESSES
MARSH LADIES'-TRESSES
UNDERWATER ORCHID
Florida native
A frequent terrestrial or semi-aquatic orchid of swamps, ponds, rivers and flooded ditches in much of Florida. The range extends throughout the southeastern coastal states, west into Texas, plus Oklahoma, Arkansas, Tennessee and Kentucky, and up the Atlantic coast to New Jersey.
Marsh ladies-tresses bloom from October though January. Ten to 30 small white flowers are arranged in three or four rows that spiral up the spike of the inflorescence. Individual flowers are 9 - 18 mm long (1/3 - 3/4 in.) long, mostly white or ivory and often with the center of the lower lip a creamy yellow or greenish color. Petals and sepals are similar color, with the sepals extending forward. The 3 to 5 basal leaves are linear to oblanceolate, up to 52 cm (20-1/2 in.) long and 4 cm (1-1/2 in.) wide and are usually present when the plant is flowering. The stem has sheathing bracts that are reduced upward.
Spiranthes odorata is sometimes classified as a variant or subspecies of S. cernua, which only occurs in Florida in one or two panhandle counties.


---
Spiranthes odorata is a member of the Orchidaceae - Orchid family.
---
Other species of the Spiranthes genus in the Wild Florida Photo database:
View Spiranthes praecox - GREENVEIN LADIESTRESSES
View Spiranthes sylvatica - WOODLAND LADIESTRESSES
View Spiranthes eatonii - EATON'S LADIESTRESSES
View Spiranthes brevilabris - TEXAS LADIESTRESSES
View Spiranthes laciniata - LACELIP LADIESTRESSES
View Spiranthes vernalis - SPRING LADIESTRESSES
View Spiranthes cernua - NODDING LADIESTRESSES

---
Native Florida Plants
Robert G. Haehle; Joan Brookwell
Low Maintenance Landscaping and Gardening

Purchases of this ebook made by clicking the image link below help support this website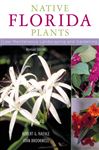 Native landscapes are easier to maintain, use less water and thrive without chemical pesticides and fertilizers. Native Florida Plants describes every type of regional flora—-from seaside foliage and wildflowers to grassy meadows, shrubs, vines, and aquatic gardens—-in 301 profiles and accompanying color photographs.
---
Atlas of Florida Vascular Plants (Institute for Systemic Botany) profile for this species
USDA Plant Profile for this species
Date record last modified:
Feb 16, 2018