Click on the thumbnail to open the full size photo.
Click any of the thumbnails above to view the full sized photo in a lightbox.
Once opened, click on the right or left side of the images to scroll through the other images above.
Pinguicula pumila
SMALL BUTTERWORT
Florida native
A frequent plant of flatwoods throughout most of Florida. The range extends through the southeastern coastal states from North Carolina to Texas, plus Oklahoma.
The butterworts have basal rosettes of small succulent leaves with an upper sticky surface and curled edges to trap insects for this carnivorous plant. Pinguicula pumila has small white, sometimes blue, violet, or pink, flowers on top of a leafless stalk, or scape, which is covered with tiny glandular trichomes. This species can be differentiated from the others of the genus in Florida by not having a palate that extends beyond the throat of the corolla, as well as the small size of the flower, less than 1.8 cm ( ~3/4 in.) in length, including the spur. Small butterworts bloom mostly in winter and spring.


---
Pinguicula pumila is a member of the Lentibulariaceae - Bladderwort family.
---
Other species of the Pinguicula genus in the Wild Florida Photo database:
View Pinguicula lutea - YELLOW BUTTERWORT

---
Native Florida Plants
Robert G. Haehle; Joan Brookwell
Low Maintenance Landscaping and Gardening

Purchases of this ebook made by clicking the image link below help support this website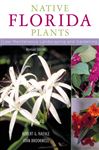 Native landscapes are easier to maintain, use less water and thrive without chemical pesticides and fertilizers. Native Florida Plants describes every type of regional flora—-from seaside foliage and wildflowers to grassy meadows, shrubs, vines, and aquatic gardens—-in 301 profiles and accompanying color photographs.
---