Click on the thumbnail to open the full size photo.
Click any of the thumbnails above to view the full sized photo in a lightbox.
Once opened, click on the right or left side of the images to scroll through the other images above.
Passiflora incarnata
PURPLE PASSIONFLOWER
MAYPOP
Florida native
This distinctive flower is also known as MAYPOP, one of the more common native species in this family. A favorite larval food of the Gulf fritillary, julia and zebra butterflies, exotic and cultivated hybrid species of passionflowers can also be found in Florida.
Vines can be sprawling or climbing, utilizing tendrils to cling to supports. Leaves are alternate, three-lobed and finely toothed. The showy flowers have a blue-purple fringed corolla. There are five each similar-looking petals and sepals, with the petals having a bluish or lavender tint and the sepals being pale, sort of off-white. The sexual parts of a passionflower are distinctive and rise above the center of the corolla then spread and bend back down, scraping the top of visiting pollinators (see photo with bee).


---
Passiflora incarnata is a member of the Passifloraceae - Passion-flower family.
---
Other species of the Passiflora genus in the Wild Florida Photo database:
View Passiflora suberosa - CORKYSTEM PASSIONFLOWER
View Passiflora pallens - PINELAND PASSIONFLOWER
View Passiflora incarnata var. alba - WHITE PASSIONFLOWER

---
Native Florida Plants
Robert G. Haehle; Joan Brookwell
Low Maintenance Landscaping and Gardening

Purchases of this ebook made by clicking the image link below help support this website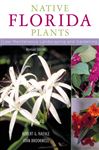 Native landscapes are easier to maintain, use less water and thrive without chemical pesticides and fertilizers. Native Florida Plants describes every type of regional flora—-from seaside foliage and wildflowers to grassy meadows, shrubs, vines, and aquatic gardens—-in 301 profiles and accompanying color photographs.
---