Click on the thumbnail to open the full size photo.
Click any of the thumbnails above to view the full sized photo in a lightbox.
Once opened, click on the right or left side of the images to scroll through the other images above.
Echinacea purpurea
EASTERN PURPLE CONEFLOWER
Florida native
Endangered Florida species
A rare wildflower in Florida, naturally occurring only in the calcareous hammocks of Gadsden County. The range includes the southeastern United States extending west into Texas, Oklahoma and Colorado, north to Iowa, Wisconsin & Michigan, northeast into New York and Connecticut, plus Ontario.
Eastern purple coneflowers bloom from June to October. The conspicuous inflorescence is made up of reflexed purple ray flowers and a large orange disk with spiny bracts. The lanceolate leaves are 5-15 cm (2-6 in.) long, alternate, petioled, large toothed, and taper to a sharp point. Echinacea purpurea is a perennial with hairy stems growing from 61 to 91 cm (2-3 ft.) tall.
This is the only species of Echinacea - the purple coneflowers - in Florida.
---
Echinacea purpurea is a member of the Asteraceae - Aster family.
---
Wildflowers of Tennessee, the Ohio Valley and the Southern Appalachians
Dennis Horn, Tavia Cathcart, Thomas Hemmerly, David Duhl
Even though the primary focus of this wildflower guide is not Florida, readers will find that can be a very useful reference for wildflowers in the northern part of the state, particularly the panhandle region.

Purchases made by clicking the image link below help support this website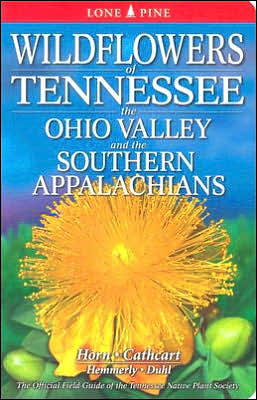 The Tennessee Native Plant Society's official field guide covers about 1,250 species (including some 50 orchid species) in 16 states. Naturalists and nature photographers present introductory material and plant accounts with color photos. While their folk uses are noted, the authors advise against using these plants medicinally. Features include a regional map, color key, and visual glossary.
A review of this field guide written by Paul Rebmann appeared in the spring 2010 edition of The Palmetto, the journal of the Florida Native Plant Society.
---