Click on the thumbnail to open the full size photo.
Click any of the thumbnails above to view the full sized photo in a lightbox.
Once opened, click on the right or left side of the images to scroll through the other images above.
Nymphaea ordorata
AMERICAN WHITE WATERLILY
FRAGRANT WATER LILY
Florida native
This common water lily is found in ponds, lakes and slow streams throughout nearly all of Florida. White water lily is the most common and widespread water lily in North America.
The flowers have many white petals, sometimes tinged with pink, and a center filled with numerous yellow stamens and containing nectar. The flowers float or are held slightly above the water. Leaves are nearly circular and deeply and sharply notched.
The University of Florida, IFAS has information including a video about Nymphaea odorata on the Center for Aquatic and Invasive Plants website.
---
Nymphaea ordorata is a member of the Nymphaeaceae - Water-lily family.
---
Other species of the Nymphaea genus in the Wild Florida Photo database:
View Nymphaea elegans - TROPICAL ROYALBLUE WATERLILY
View Nymphaea mexicana - YELLOW WATER LILY

---
Native Florida Plants
Robert G. Haehle; Joan Brookwell
Low Maintenance Landscaping and Gardening

Purchases of this ebook made by clicking the image link below help support this website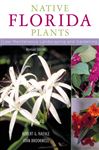 Native landscapes are easier to maintain, use less water and thrive without chemical pesticides and fertilizers. Native Florida Plants describes every type of regional flora—-from seaside foliage and wildflowers to grassy meadows, shrubs, vines, and aquatic gardens—-in 301 profiles and accompanying color photographs.
---