Click on the thumbnail to open the full size photo.
Click any of the thumbnails above to view the full sized photo in a lightbox.
Once opened, click on the right or left side of the images to scroll through the other images above.
Monotropa uniflora
INDIANPIPE
Florida native
Despite the ghostly appearance, this actually is a plant. Since Indian pipe lacks chlorophyll it cannot photosynthesize. A shared fungal-root association with nearby trees provides nutrients. The fungus obtains nutrients from the tree roots, providing the tree with minerals in the process. Monotropa uniflora pulls some of these sugars from the fungus.
The plant is white, turning black with age. A single flower curves over at the top of each stem, turning upright at maturity.
The other member of this genus, M. hypopithys or pinesap, grows taller, has multiple flowers and is usually red or yellow.
---
Monotropa uniflora is a member of the Monotropaceae - Indian Pipe family.
---
Other species of the Monotropa genus in the Wild Florida Photo database:
View Monotropa hypopithys - PINESAP

---
Native Florida Plants
Robert G. Haehle; Joan Brookwell
Low Maintenance Landscaping and Gardening

Purchases of this ebook made by clicking the image link below help support this website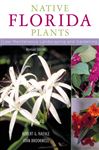 Native landscapes are easier to maintain, use less water and thrive without chemical pesticides and fertilizers. Native Florida Plants describes every type of regional flora—-from seaside foliage and wildflowers to grassy meadows, shrubs, vines, and aquatic gardens—-in 301 profiles and accompanying color photographs.
---