Click on the thumbnail to open the full size photo.
Click any of the thumbnails above to view the full sized photo in a lightbox.
Once opened, click on the right or left side of the images to scroll through the other images above.
Pteridium aquilinum
var. caudatum
LACY BRACKEN
SOUTHERN BRACKENFERN
Synonym: Pteridium caudatum
Florida native
---
Pteridium aquilinum is a member of the Dennstaedtiaceae - Bracken Fern family.
---
The Ferns of Florida
Gil Nelson
At least 163 kinds of ferns have been recorded in Florida, this field guide is the first in 25 years to treat this amazing variety of ferns.

Purchases made by clicking the image link below help support this website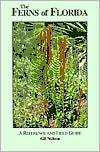 Following in the tradition of John K. Small's 1931 Ferns of Florida, and Robert Long and Olga Lakela's 1976 edition of the same name, this new volume catalogs and illustrates all of Florida's native and naturalized fern species. From northern species whose southern ranges extend into the rolling uplands of the state's northern tier to tropical treasures that spill over the state's southern tip, Florida is without parallel in fern diversity and number. No other like-sized region of the continental United States can boast such an expanded assortment. Color plates feature more than 200 images, some of which include rare species never before illustrated in color. Rare and hard-to-find species such as some of our spleenworts and filmy ferns are included, as well as such common species as the cinnamon fern pictured on the front cover. Clearly written detailed descriptions, along with helpful identification tips and a selection of botanical keys - all of which are based on field observations -help readers identify plants in the wild. Also included are notes on each species' growth form and habitat, as well as general remarks about its botanical and common names, unique characteristics, garden use, and history in Florida. Other important features of the book include a complete glossary, a section on the fern life cycle and structure, a history of fern study in Florida, a discussion of some of the state's best natural ferneries, and an extensive bibliography. All professional or amateur botanists, plant lovers, and gardeners will want to have this important book in their libraries.
---