Click on the thumbnail to open the full size photo.
Click any of the thumbnails above to view the full sized photo in a lightbox.
Once opened, click on the right or left side of the images to scroll through the other images above.
Gelsemium sempervirens
YELLOW JESSAMINE
CAROLINA JESSAMINE
EVENING TRUMPETFLOWER
Florida native
A frequent evergreen vine of flatwoods, hammocks and disturbed sites throughout most of Florida except for the southernmost peninsula. The range extends through the southeast, west into Texas and Arkansas, north into Tennessee and Virginia.
Often high-climbing, this vine produces yellow trumpet-shaped flowers, usually appearing between December and April in Florida. The flowers are on short pedicels and may be solitary, or in axillary clusters of 2 to 3. The flower tube is 2.5-3.8 cm (1 to 1-1/2 in.) long with five spreading corolla lobes. The sepals are obtuse - having blunt or rounded apices. The leaves are opposite, simple, entire and lanceolate, 6-9 cm (2-1/2 to 3-1/2 in.) long and 1.5 cm (2/3 in.) wide with a long tapering tip. Fruit is an oblong capsle 1.4-2.5 cm (1/2 to 1 in.) long and 0.8-1.2 cm (<1/2 in.) wide.
All parts of this plant are poisonous. Ingestion can cause death and skin contact can cause dermatitis, prompting another common name, cow itch.
---
Gelsemium sempervirens is a member of the Loganiaceae - Logania family.
---
The Shrubs & Woody Vines of Florida
Gil Nelson
This volume - a companion to The Trees of Florida - is the first comprehensive guide to Florida's native and naturalized woody shrubs and vines.

Purchases made by clicking the image link below help support this website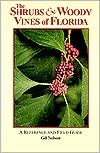 This book is organized as an easy to use field guide so that even a beginner can learn to identify plants. The line drawings that show a combination of typical leaves, fruits, and flowers, and the color photos, in combination with the detailed descriptions, are helpful in identifying species in the field. Useful information about using these plants in urban and suburban landscapes help make this guide useful to landscape architects and weekend gardeners, as well as the naturalist.
---