Click on the thumbnail to open the full size photo.
Click any of the thumbnails above to view the full sized photo in a lightbox.
Once opened, click on the right or left side of the images to scroll through the other images above.
Harrisia fragrans
FRAGRANT PRICKLY APPLE
INDIAN RIVER PRICKLY-APPLE
CARIBBEAN APPLECACTUS
Florida native
Endemic to Florida
Endangered Florida species
U.S. Endangered species

This rare cactus was for some time only found in St. Lucie County, Florida, but it has just been recently rediscovered in Volusia County, although historically it ranged all along the east coast between these two counties. The habitat is scrubby flatwoods, xeric coastal hammocks and shell middens.
Fragrant prickly apple is an erect, sometimes branched or leaning, tree cactus 1-5 m (3-16 ft) tall, having slender cylindrical spiny stems with 10 or more ridges. Spines are grey with yellow tips, 2.5-4 cm (1 to 1-1/2 in) long, 9-13 per cluster, with one spine longer than the others. The showy, solitary flowers open at night, are 13-20 cm (5-8 in) long with a long scaly floral tube and numerous white petals, turning pink the next morning. Fruits are round, 5 cm (2 in) in diameter, green at first, turning red at maturity.
---
Harrisia fragrans is a member of the Cactaceae - Cactus family.
---
Florida Wildflowers: A Comprehensive Guide
Walter Kingsley Taylor
Walter Taylor's guide will help readers recognize and identify wildflowers by where they're most likely to be found growing - their natural habitat.

Purchases made by clicking the image link below help support this website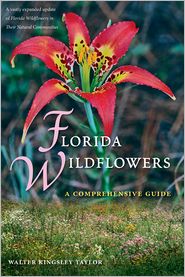 This guide is an updated and expanded version of Florida Wildflowers in their Natural Communities. The number of species is doubled, to more than 450, with updated taxonomy, and now wetlands habitats are included.
---