Click on the thumbnail to open the full size photo.
Click any of the thumbnails above to view the full sized photo in a lightbox.
Once opened, click on the right or left side of the images to scroll through the other images above.
Deeringothamnus rugelii
var. pulchellus
PRETTY FALSE PAWPAW
WHITE SQUIRREL-BANANA
ROYAL FALSE PAWPAW
Synonym: Asimina pulchella, Deeringothamnus pulchellus
Florida native
Endemic to Florida
Endangered Florida species
U.S. Endangered species

Beautiful pawpaw, as this plant is also known, is found only in Florida, primarily in flatwoods and disturbed sites in Lee and Charlotte Counties. There are also a few populations in Orange County, typically open sites that have been burned or mechanically cleared, such as powerline right-of-ways.
A small woody shrub only growing up to 30cm (about 1 foot) tall. Single flowers appear in the leaf axils, usually in April and May. The flowers are made up of two series of similar white or pale pink linear recurved petals. Both the foliage and flowers are fragrant.
Botanists disagree on if white squirrel-banana - Deeringothamnus rugelii var. pulchellus - is a subspecies of Derringothamnus rugelii - or if it is a separate species.
---
Deeringothamnus rugelii is a member of the Annonaceae - Custard-apple family.
---
Other species of this genus in the Wild Florida Photo database:
View Deeringothamnus rugelii - RUGEL'S FALSE PAWPAW

---
Florida Wildflowers: A Comprehensive Guide
Walter Kingsley Taylor
Walter Taylor's guide will help readers recognize and identify wildflowers by where they're most likely to be found growing - their natural habitat.

Purchases made by clicking the image link below help support this website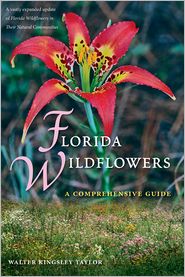 This guide is an updated and expanded version of Florida Wildflowers in their Natural Communities. The number of species is doubled, to more than 450, with updated taxonomy, and now wetlands habitats are included.
---