Click on the thumbnail to open the full size photo.
Click any of the thumbnails above to view the full sized photo in a lightbox.
Once opened, click on the right or left side of the images to scroll through the other images above.
Asimina parviflora
SMALLFLOWER PAWPAW
Florida native
A frequent shrub or small tree of wet hammocks, mesic woodlands and floodplains throughout the panhandle and the north and central peninsula of Florida. The range of Asimina parviflora extends through the southeastern coastal states from Virginia to Texas, plus Arkansas.
The inconspicuous maroon flowers with a fetid aroma are less than 2 cm (about 3/4 in) wide on peduncles less than 1cm long. Smallflower pawpaw blooms from February through April. The leaves are alternate, simple and entire from 6-15(20) cm (about 2-1/3 to 6 inches) long. New leaves on flowering branches are often held erect and distinctly different in appearance from mature leaves. The fruit is a fleshy, greenish-yellow berry 3-7 cm long.
---
Asimina parviflora is a member of the Annonaceae - Custard-apple family.
---
Other species of this genus in the Wild Florida Photo database:
View Asimina pygmaea - DWARF PAWPAW
View Asimina reticulata - NETTED PAWPAW
View Asimina obovata - BIGFLOWER PAWPAW
View Asimina angustifolia - SLIMLEAF PAWPAW
View Asimina incana - WOOLLY PAWPAW
View Asimina triloba - COMMON PAWPAW
View Asimina tetramera - FOURPETAL PAWPAW
View Asimina spatulata -
View Asimina x nashii -

---
The Shrubs & Woody Vines of Florida
Gil Nelson
This volume - a companion to The Trees of Florida - is the first comprehensive guide to Florida's native and naturalized woody shrubs and vines.

Purchases made by clicking the image link below help support this website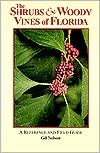 This book is organized as an easy to use field guide so that even a beginner can learn to identify plants. The line drawings that show a combination of typical leaves, fruits, and flowers, and the color photos, in combination with the detailed descriptions, are helpful in identifying species in the field. Useful information about using these plants in urban and suburban landscapes help make this guide useful to landscape architects and weekend gardeners, as well as the naturalist.
---