Click on the thumbnail to open the full size photo.
Click any of the thumbnails above to view the full sized photo in a lightbox.
Once opened, click on the right or left side of the images to scroll through the other images above.
Poinsettia cyathophora
PAINTED LEAF
FIRE ON THE MOUNTAIN
WILD POINSETTIA
Synonym: Euphorbia cyathophora
Florida native
A common plant of dunes, hammocks and disturbed sites in most of Florida. The range includes scattered locations in much of the United States except New England and the northwest states, but including Hawaii, Puerto Rico and the Virgin Islands.
This is a glabrous annual growing to about a meter (just over 3 feet) tall. The stems have milky sap, with the lower branches opposite and the upper branches alternate. Leaves are opposite and may be linear or lobed resembling a fiddle shape. Upper bracts have red blotches at the base, prompting one of the common names, painted leaf. Flowers are small and greenish, petals are absent, there is one stamen and the capsules are three-lobed.
---
Poinsettia cyathophora is a member of the Euphorbiaceae - Spurge family.
---
Native Florida Plants
Robert G. Haehle; Joan Brookwell
Low Maintenance Landscaping and Gardening

Purchases of this ebook made by clicking the image link below help support this website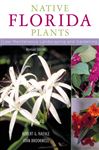 Native landscapes are easier to maintain, use less water and thrive without chemical pesticides and fertilizers. Native Florida Plants describes every type of regional flora—-from seaside foliage and wildflowers to grassy meadows, shrubs, vines, and aquatic gardens—-in 301 profiles and accompanying color photographs.
---