Click on the thumbnail to open the full size photo.
Click any of the thumbnails above to view the full sized photo in a lightbox.
Once opened, click on the right or left side of the images to scroll through the other images above.
Nemastylis floridana
CELESTIAL LILY
FALLFLOWERING IXIA
FALLFLOWERING PLEATLEAF
Florida native
Endemic to Florida
Endangered Florida species
This Florida endemic species is found in wet flatwoods, prairies, marshes and the edges of cabbage palm hammocks of east-central Florida, mostly in the St. Johns River watershed. Ranging from Putnam and Flagler Counties in the north, extending south to Broward County and west into Pasco County.
The violet-blue six tepaled flower only opens for an hour or two in the afternoon during the fall, hence one of the common names is fall-flowering ixia. The elliptic sepals and petals are nearly equal in length, the flowers are 4 cm or more across. There are three yellow anthers are curved. The style is white and divided into six narrow pointed branches. Usualy having a single stem with small well-spaced leaves, some robust plants may be branched. The few grass-like basal leaves can be over 60 cm long.
Similar in appearance to Bartram's ixia, which has flowers with wider more rounded tepals that bloom only in the morning during late spring or early summer in northeast Florida. Also similar to the more widespread blue-eyed grasses that bloom throughout the day during the spring and summer.
This endangered species responds well to periodic burning of the habitat.
---
Nemastylis floridana is a member of the Iridaceae - Iris family.
---
The Guide to Florida Wildflowers
Walter Kingsley Taylor
A guide to 574 wildflowers found in Florida, organized by color with photographs and descriptions of each.

Purchases made by clicking the image link below help support this website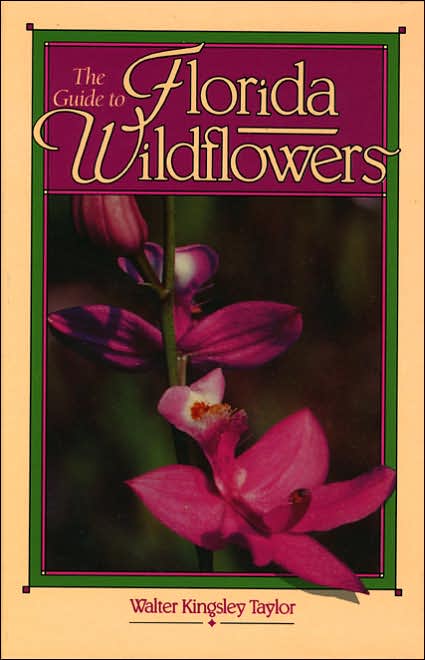 Each entry includes common names, genus, species and family and a description of the plant with habitat and distribution information, flowering time and other comments.
---