Click on the thumbnail to open the full size photo.
Click any of the thumbnails above to view the full sized photo in a lightbox.
Once opened, click on the right or left side of the images to scroll through the other images above.
Dicerandra linearifolia
var. robustior
COASTALPLAIN BALM
Florida native
An occasional plant of sandhills from the central Florida panhandle to the upper Suwannee River area, plus Alachua and Duval Counties. Coastalplain balm also occurs in Georgia.
The robustior variety has a red to bright purple corolla with reddish-brown anthers while the linearifolia variety has white to pale purple corolla and bright yellow anthers. The lighter flower variety is found in the western and north-central panhandle with its Florida range only overlapping the robustior variety in Jackson County.
---
Dicerandra linearifolia is a member of the Lamiaceae - Mint family.
---
Florida Wildflowers in Their Natural Communities
Walter Kingsley Taylor
Walter Taylor's guide will help readers recognize and identify wildflowers by where they're most likely to be found growing - their natural habitat.

Purchases made by clicking the image link below help support this website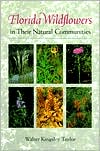 This book is the first of its kind for Florida. Taylor provides detailed descriptions and color photos of each community - pine flatwoods, sandhills, upland pine forest, scrub, temperate hardwood forest, coastal uplands, subtropical pine forest, tropical hardwood hammock, and ruderal sites - and of the wildflower species associated with each.
---