Click on the thumbnail to open the full size photo.
Click any of the thumbnails above to view the full sized photo in a lightbox.
Once opened, click on the right or left side of the images to scroll through the other images above.
Ruellia simplex
BRITTON'S WILD PETUNIA
MEXICAN BLUEBELL
MEXICAN PETUNIA
Synonym: Ruellia caerulea, R.brittoniana, R. tweediana
Not native to Florida
Florida Exotic Pest Plant Council: Category I designation
This plant is an invasive exotic that is altering native plant communities by displacing native species, changing community structures or ecological functions, or hybridizing with natives.
This species should never be planted (many with this designation are prohibited by law), and generally should be removed whenever possible.
Preferred native landscaping alternatives to Mexican petunia include Echinacea purpurea - purple coneflower, Ipomopsis rubra - standing-cypress and Lobelia cardinalis - cardinalflower.
---
Ruellia simplex is a member of the Acanthaceae - Acanthus family.
---
Other species of this genus in the Wild Florida Photo database:
View Ruellia caroliniensis - CAROLINA WILD PETUNIA

---
Guide to the Vascular Plants of Florida
Bruce F. Hansen, Richard P. Wunderlin
Comprehensive guide with dichotomous keys to all vascular plants in Florida. The authoritative source for identifying Florida plant species.

Purchases made by clicking the image link below help support this website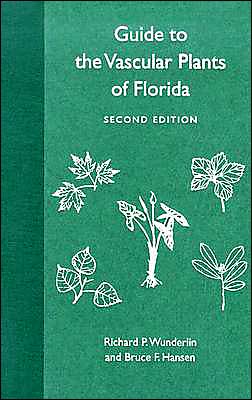 Includes habitat and distribution information on each species, and an extensive glossary. There are no photographs or drawings.
---