Click on the thumbnail to open the full size photo.
Click any of the thumbnails above to view the full sized photo in a lightbox.
Once opened, click on the right or left side of the images to scroll through the other images above.
Elephantopus elatus
TALL ELEPHANTSFOOT
FLORIDA ELEPHANT'S FOOT
Florida native
A common wildflower of pine flatwoods, sandhills, dry prairies and other uplands and ruderal sites throughout nearly all of Florida. The range includes the southeastern coastal states from Louisiana into South Carolina.
Elephantsfoot is a perennial growing up to 7dm (just over 2 ft.) tall from a rhizome. Basal rosettes of elliptic or lanceolate leaves with hairy undersides help identify this plant even when not in bloom. The stems are often branching with much smaller alternate, sessile and elliptic leaves. The white, pink or pale purple tubular florets appear above three leaf-like, deltoid, hairy bracts.


---
Elephantopus elatus is a member of the Asteraceae - Aster family.
---
Other species of the Elephantopus genus in the Wild Florida Photo database:
View Elephantopus carolinianus - CAROLINA ELEPHANTSFOOT

---
Native Florida Plants
Robert G. Haehle; Joan Brookwell
Low Maintenance Landscaping and Gardening

Purchases of this ebook made by clicking the image link below help support this website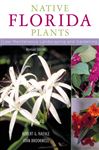 Native landscapes are easier to maintain, use less water and thrive without chemical pesticides and fertilizers. Native Florida Plants describes every type of regional flora—-from seaside foliage and wildflowers to grassy meadows, shrubs, vines, and aquatic gardens—-in 301 profiles and accompanying color photographs.
---