Click on the thumbnail to open the full size photo.
Click any of the thumbnails above to view the full sized photo in a lightbox.
Once opened, click on the right or left side of the images to scroll through the other images above.
Deeringothamnus rugelii
RUGEL'S FALSE PAWPAW
YELLOW SQUIRREL-BANANA
VOLUSIA PAWPAW
Florida native
Endemic to Florida
Endangered Florida species
U.S. Endangered species

A very small rare shrub of pine flatwoods only occurring in Volusia County Florida.
Growing from 20-50 cm (8-20 in.) tall, sparsely branched with green or brown, often solitary stems that are frequently arching. Leaves are aromatic, alternate, oblong, entire, often with revolute margins, from 1-8 cm ( 3/8 - 3 in.) long. The flowers appear in mid-spring on slender stalks from the leaf axils. These small flowers have from 6 to 15 fleshy lemon-yellow petals and 3 green sepals. There are occasional variants with a red tint to the petals. The fruit is an elongated 2.5 to 6 cm (1 to 2-1/2 in.) long, yellow-green berry - typical of the Annonaceae (pawpaw and custard-apple) family.
Like all members of this plant family, Deeringothamnus rugelii is a host plant for zebra swallowtail caterpillars. Gopher tortoises are known to eat the fruit. This plant grows on specific soil types in pine flatwoods.
The species was named for Ferdinand Rugel who traveled in the southern United States in the 1840s and discovered several new species while in Florida. The genus was named by botanist John Kunkel Small in honor of his friend and patron Charles Deering.


---
Deeringothamnus rugelii is a member of the Annonaceae - Custard-apple family.
---
Other species of the Deeringothamnus genus in the Wild Florida Photo database:
View Deeringothamnus rugelii var. pulchellus - PRETTY FALSE PAWPAW

---
Native Florida Plants
Robert G. Haehle; Joan Brookwell
Low Maintenance Landscaping and Gardening

Purchases of this ebook made by clicking the image link below help support this website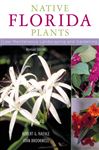 Native landscapes are easier to maintain, use less water and thrive without chemical pesticides and fertilizers. Native Florida Plants describes every type of regional flora—-from seaside foliage and wildflowers to grassy meadows, shrubs, vines, and aquatic gardens—-in 301 profiles and accompanying color photographs.
---