Click on the thumbnail to open the full size photo.
Click any of the thumbnails above to view the full sized photo in a lightbox.
Once opened, click on the right or left side of the images to scroll through the other images above.
Callisia ornata
FLORIDA SCRUB ROSELING
Synonym: Cuthbertia ornata
Florida native
Endemic to Florida
A frequent wildflower of sandhills and scrub in much of the peninsula from Alachua to Collier and Broward Counties. Also found in the panhandle counties of Gulf, Franklin and Wakulla.
This perennial has slender stems less than 61cm (2 ft.) tall topped with a tight cyme of three-petaled pink flowers. The flowers have six fertile stamens with bearded filaments and petals with scalloped edges. The linear leaves are shorter than their flowering stem. This Callisia species does not grow in dense tufts (not cespitose).
There are a series of images and a video of a Poecilognathus bee fly on the flower of this plant on the Poecilognathus bee fly page.
"Bee Fly on Roseling" won Honorable Mention in the Orange Audubon Society's 2018 (30th Annual) Kit and Sidney Chertok Florida Native Nature Photography Contest. The image shows an extreme close-up of a Poecilognathus bee fly on an endemic Florida scrub roseling flower.


---
Callisia ornata is a member of the Commelinaceae - Spiderwort family.
---
Other species of the Callisia genus in the Wild Florida Photo database:
View Callisia graminea - GRASSLEAF ROSELING

---
Native Florida Plants
Robert G. Haehle; Joan Brookwell
Low Maintenance Landscaping and Gardening

Purchases of this ebook made by clicking the image link below help support this website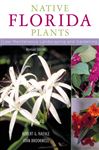 Native landscapes are easier to maintain, use less water and thrive without chemical pesticides and fertilizers. Native Florida Plants describes every type of regional flora—-from seaside foliage and wildflowers to grassy meadows, shrubs, vines, and aquatic gardens—-in 301 profiles and accompanying color photographs.
---