Click on the thumbnail to open the full size photo.
Click any of the thumbnails above to view the full sized photo in a lightbox.
Once opened, click on the right or left side of the images to scroll through the other images above.
Coreopsis leavenworthii
LEAVENWORTH'S TICKSEED
Florida native
A common wildflower of wet flatwoods, ditches and disturbed sites throughout nearly all of Florida. Also occurs in two south Alabama counties.
Coreopsis is the official Florida state wildflower.
A perennial growing up to 1.5m (5ft.) tall with slender glabrous stems that branch in the upper part of the plant. The flowers are terminal on the branches and have yellow ray florets and dark disks. Flowers can appear throughout the year. Leaves are opposite, narrow and may be lobed or unlobed. Fruit is an achene with conspicuous awns.
This species is named for Melines Conkling Leavenworth (1796-1862) an army surgeon stationed at Fort King near Tampa during the Second Seminole Indian War. He was also a botanist who collected in the southeastern United States.
More information on Coreopsis leavenworthii can be found in this Florida Native Plant Society Native Plant Owners Manual
There are more photos of Leavenworth's coreopsis on the Green Metalic Bee page.


---
Coreopsis leavenworthii is a member of the Asteraceae - Aster family.
---
Other species of the Coreopsis genus in the Wild Florida Photo database:
View Coreopsis gladiata - COASTALPLAIN TICKSEED
View Coreopsis lanceolata - LANCELEAF TICKSEED
View Coreopsis floridana - FLORIDA TICKSEED

---
Native Florida Plants
Robert G. Haehle; Joan Brookwell
Low Maintenance Landscaping and Gardening

Purchases of this ebook made by clicking the image link below help support this website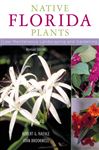 Native landscapes are easier to maintain, use less water and thrive without chemical pesticides and fertilizers. Native Florida Plants describes every type of regional flora—-from seaside foliage and wildflowers to grassy meadows, shrubs, vines, and aquatic gardens—-in 301 profiles and accompanying color photographs.
---
Atlas of Florida Vascular Plants (Institute for Systemic Botany) profile for this species
USDA Plant Profile for this species
Date record last modified:
Oct 03, 2017