Click on the thumbnail to open the full size photo.
Click any of the thumbnails above to view the full sized photo in a lightbox.
Once opened, click on the right or left side of the images to scroll through the other images above.
Ocyptamus fuscipennis
FLOWER FLY
HOVER FLY
Florida native
The narrowing of the abdomen towards the thorax helps give this fly the appearance of a small wasp and is characteristic of this genus.
Widely distributed across North America, the syrphid flies are a large family of insects that are found in various habitats, often on flowers. They are good fliers and do a great deal of hovering. Adults of this species are present in June and July in the north part of the range (Quebec) and from at least May through November in the southeast United States. Ocyptamus fuscipennis occurs east of the Rocky Mountains and are also found in Mexico and Cuba.
The wings of this species are dark along the leading edge with a clear area along the trailing edge near the wingtip. The body is 7-12 mm (>1/4 - <1/2 in.) long. The larvae develop on a diet of aphids and other scale insects More detail about this species may be found at Encyclopedia of Life, Life Desks and on bugguide.net (scroll down to link on left side of this page).
This fly is on the flowers of swamp dogwood.
---
Ocyptamus fuscipennis is a member of the Syrphidae - Syrphid Flies family.
---
The Peterson Field Guide to the Insects of America North of Mexico
Donald J. Borror and Richard E. White
This field guide is the most authoritative and comprehensive pocket guide to this extraordinarily numerous, diverse, and ubiquitous part of the animal kingdom.

Purchases made by clicking the image link below help support this website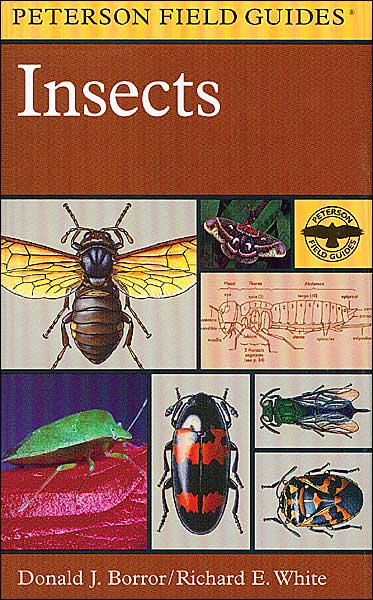 Detailed descriptions of insect orders, families, and many individual species are illustrated with 1,300 drawings and 142 superb color paintings. Illustrations - which use the unique Peterson Identification System to distinguish one insect from another - include size lines to show the actual length of each insect. A helpful glossary explains the technical terms of insect anatomy.
---
For more information on this species, visit the following link:
Bugguide.net page for this species
Date record last modified:
Aug 17, 2012