Florida native
Opossums are nocturnal and can be found throughout Florida, most of the United States plus Ontario and Quebec. They are exotic in the Pacific states, Idaho and British Columbia.
These house cat sized animals are overall mostly grey, 2-6 kg (4-13 lbs.), with a body 37-50 cm (15-20 in.) long and a rat-like, naked tail 24-50 cm (9-20 in.) long. The prehensile tail and opposable thumbs allow them to climb and grasp small branches and other objects. The head is pointed with a long nose, white face, long whiskers, and small round black ears with white tips.
The only North American marsupial, opossums give birth to tiny, relatively undeveloped young which then climb into the mother's pouch, where they attach to a nipple and remain for about 60 days. Once they emerge from the pouch, they often ride on the mother opossum's back while she is outside the den.
---
Didelphis virginiana is a member of the Didelphidae - American opossums family.
---
Audubon Society Field Guide to Florida
Peter Alden
An easy-to-use field guide for identifying 1,000 of the state's wildflowers, trees, mushrooms, mosses, fishes, amphibians, reptiles, birds, butterflies, mammals, and much more.

Purchases made by clicking the image link below help support this website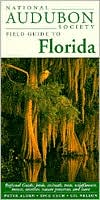 A complete overview of Florida's natural history, covering geology, wildlife habitats, ecology, fossils, rocks and minerals, clouds and weather patterns and night sky. An extensive sampling of the area's best parks, preserves, beaches, forests, islands, and wildlife sanctuaries, with detailed descriptions and visitor information for 50 sites and notes on dozens of others. The guide is packed with visual information. The 1,500 full-color images include more than 1,300 photographs, 14 maps, and 16 night-sky charts, as well as 150 drawings explaining everything from geological processes to the basic features of different plants and animals. For everyone who lives or spends time in Florida, there can be no finer guide to the area's natural surroundings than the National Audubon Society Field Guide to Florida.
---
For more information on this species, visit the following link:
University of Florida, IFAS page for this species
Date record last modified:
May 27, 2012