Click on the thumbnail to open the full size photo.
Click any of the thumbnails above to view the full sized photo in a lightbox.
Once opened, click on the right or left side of the images to scroll through the other images above.
Argiope aurantia
BLACK AND YELLOW ARGIOPE
BLACK AND YELLOW GARDEN SPIDER
WRITING SPIDER
Florida native
A common spider ranging from Canada through most of the United States into Mexico and Central America as far south as Costa Rica. Females are from 19-28 mm (3/4 to 1-1/8 in), while males are typically only 5-9 mm (1/4 to 3/8 in.) long. The legs are banded, the forward part of the body, the cephalothorax, is covered with short silvery hairs and the abdomen has black and yellow or orange markings. The immature spiders are mostly black and white.
The zig-zag web pattern is called a stabilimentum and is a distinctive trait of the Argiope genus. Immature spiders often create disk shaped stabilimentum. While the name might indicate that it stabilizes the web, this is not currently considered the purpose. A number of possible functions include: camouflage for the spider, attracting prey, attracting a mate, molting platform, sun protection, and silk production practice.
---
Argiope aurantia is a member of the Araneidae - Orb-weavers family.
---
Other species of this genus in the Wild Florida Photo database:
View Argiope florida - FLORIDA ARGIOPE

---
Audubon Society Field Guide to Florida
Peter Alden
An easy-to-use field guide for identifying 1,000 of the state's wildflowers, trees, mushrooms, mosses, fishes, amphibians, reptiles, birds, butterflies, mammals, and much more.

Purchases made by clicking the image link below help support this website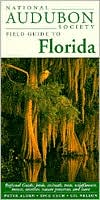 A complete overview of Florida's natural history, covering geology, wildlife habitats, ecology, fossils, rocks and minerals, clouds and weather patterns and night sky. An extensive sampling of the area's best parks, preserves, beaches, forests, islands, and wildlife sanctuaries, with detailed descriptions and visitor information for 50 sites and notes on dozens of others. The guide is packed with visual information. The 1,500 full-color images include more than 1,300 photographs, 14 maps, and 16 night-sky charts, as well as 150 drawings explaining everything from geological processes to the basic features of different plants and animals. For everyone who lives or spends time in Florida, there can be no finer guide to the area's natural surroundings than the National Audubon Society Field Guide to Florida.
---
Date record last modified:
Jul 08, 2007