Click on the thumbnail to open the full size photo.
Click any of the thumbnails above to view the full sized photo in a lightbox.
Once opened, click on the right or left side of the images to scroll through the other images above.
Deirochelys reticularia
var. chrysea
FLORIDA CHICKEN TURTLE
Florida native
A subspecies of the Eastern chicken turtle that ranges through the southeastern United States, Deirochelys reticularia chrysea can be found in most of the peninsula. The habitat is quiet waters of ponds marshes and sloughs.
A carnivore that prefers crayfish, tadpoles and carrion, they will occassionally feed on aquatic plants.
Appearance is similar to the yellow-bellied slider. Florida chicken turtle grows to 10 inches, has a long neck when fully extended, a shell pattern resembling chicken wire and yellow bands on the front legs. The rear of the shell is wider than the front and there are many thin yellow stripes on the top of the head. The yellow 'striped pants' between the rear legs are distinctive of this species, as is the unmarked yellow or bright orange plastron.
---
Deirochelys reticularia is a member of the Emydidae - Box turtles and Pond turtles family.
---
Audubon Society Field Guide to Florida
Peter Alden
An easy-to-use field guide for identifying 1,000 of the state's wildflowers, trees, mushrooms, mosses, fishes, amphibians, reptiles, birds, butterflies, mammals, and much more.

Purchases made by clicking the image link below help support this website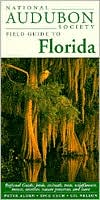 A complete overview of Florida's natural history, covering geology, wildlife habitats, ecology, fossils, rocks and minerals, clouds and weather patterns and night sky. An extensive sampling of the area's best parks, preserves, beaches, forests, islands, and wildlife sanctuaries, with detailed descriptions and visitor information for 50 sites and notes on dozens of others. The guide is packed with visual information. The 1,500 full-color images include more than 1,300 photographs, 14 maps, and 16 night-sky charts, as well as 150 drawings explaining everything from geological processes to the basic features of different plants and animals. For everyone who lives or spends time in Florida, there can be no finer guide to the area's natural surroundings than the National Audubon Society Field Guide to Florida.
---
Date record last modified:
Mar 18, 2005