Florida native
Florida Species of Special Concern

Eastern chipmunks are uncommon in Florida and are only found near the major streams north of Interstate 10 in five western panhandle counties. The range extends throughout the eastern United States, west into Louisiana, Oklahoma and up to the Dakotas, and north into Canada from Manitoba to Nova Scotia.
Averaging 25.5 cm (10 in.) in length, eastern chipmunks are reddish brown with five black stripes down the back separated by white, brown or grey. There are also white and black markings around the eyes. The belly is lighter, yellowish-brown or white. The tail is reddish brown and furry, but not as bushy as a squirrel. The front feet have 4 toes and the rear feet have 5 toes.
The genus name - Tamias - is greek for 'storer', referring to the chipmunk's characteristic stuffing of food in its cheek pouches. While T. striatus is the only chipmunk found in eastern North America, there are many members of this genus in the western portion of the continent.
---
Tamias striatus is a member of the Sciuridae - Squirrels family.
---
Audubon Society Field Guide to Florida
Peter Alden
An easy-to-use field guide for identifying 1,000 of the state's wildflowers, trees, mushrooms, mosses, fishes, amphibians, reptiles, birds, butterflies, mammals, and much more.

Purchases made by clicking the image link below help support this website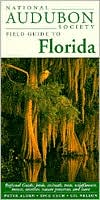 A complete overview of Florida's natural history, covering geology, wildlife habitats, ecology, fossils, rocks and minerals, clouds and weather patterns and night sky. An extensive sampling of the area's best parks, preserves, beaches, forests, islands, and wildlife sanctuaries, with detailed descriptions and visitor information for 50 sites and notes on dozens of others. The guide is packed with visual information. The 1,500 full-color images include more than 1,300 photographs, 14 maps, and 16 night-sky charts, as well as 150 drawings explaining everything from geological processes to the basic features of different plants and animals. For everyone who lives or spends time in Florida, there can be no finer guide to the area's natural surroundings than the National Audubon Society Field Guide to Florida.
---
For more information on this species, visit the following link:
NatureServe page for this species
Date record last modified:
Jul 24, 2009