var. fulva
Synonym: Vulpes fulvus
Florida native
The size of a small dog, these foxes were probably only native to the panhandle. They have recently expanded into peninsular Florida, but not into south Florida. Red foxes can be found throughout North America, except for the southwest, great plains and some of the southeast coastal regions. Their habitat is typically woods, open fields, or the transition zone in between, almost always near some source of water.
Adults are typically around a meter (3 ft.) long, with a third of that being the tail. Red foxes have long pointed ears and muzzle and relatively long legs. They have white to dull gray underparts, with the body shading from yellow-red to darker red, the lower legs and feet are always black and the tip of the tail is white. Adults weigh from 3.5 - 4.6 kg (7-3/4 to 10 lbs.).
After mating in the early part of the year, the female, known as a vixen, will prepare one or more dens, sometimes utilizing one dug by other animals. The vixen gives birth in the spring, staying in the den with the pups for the first several weeks after birth, during which time the male provides food for the female. Litters average five pups, but can be from one to seventeen.
The North American red foxes are often divided into ten subspecies, with Vulpes vulpes fulva being the only one occurring in Florida. While there were red foxes on the continent before Europeans arrived, the British did bring European species over to the colonies for hunting. The current species are likely related to both the native and the imported foxes.
Also found in Florida is the common gray fox - Urocyon cinereoargenteus.
---
Vulpes vulpes is a member of the Canidae - Coyotes, Dogs, Foxes, Jackals, and Wolves family.
---
Audubon Society Field Guide to Florida
Peter Alden
An easy-to-use field guide for identifying 1,000 of the state's wildflowers, trees, mushrooms, mosses, fishes, amphibians, reptiles, birds, butterflies, mammals, and much more.

Purchases made by clicking the image link below help support this website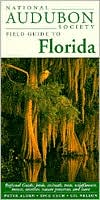 A complete overview of Florida's natural history, covering geology, wildlife habitats, ecology, fossils, rocks and minerals, clouds and weather patterns and night sky. An extensive sampling of the area's best parks, preserves, beaches, forests, islands, and wildlife sanctuaries, with detailed descriptions and visitor information for 50 sites and notes on dozens of others. The guide is packed with visual information. The 1,500 full-color images include more than 1,300 photographs, 14 maps, and 16 night-sky charts, as well as 150 drawings explaining everything from geological processes to the basic features of different plants and animals. For everyone who lives or spends time in Florida, there can be no finer guide to the area's natural surroundings than the National Audubon Society Field Guide to Florida.
---
Date record last modified:
May 10, 2010