Florida native
A common year-round resident of scrubby areas throughout Florida, Pipilo erythrophthalmus is the only towhee in Florida and most of its range. They are found from Texas and Oklahoma throughout the southeast, north into the Ohio River valley in the winter and north into southern Canada in the summer.
Towhees are the largest of the sparrows, 17-21 cm (7-8 in.) long with a wingspan of 20-28 cm (8-11 in.). The dark head, neck and back are black in males and brown in females. They have a white underside, rufous flanks and a white spot on the wing. The eyes are red throughout much if the range, but in Florida and southern Georgia the eyes are a pale yellow, or straw colored.
Eastern towhees feed on seeds, fruits, spiders, insects and other invertebrates, foraging on the ground with a two-footed backwards hop. The sound of this energetic scratching can often alert birders to the presence of these birds.
---
Pipilo erythrophthalmus is a member of the Emberizidae - Buntings, American Sparrows, and relatives family.
---
Audubon Society Field Guide to Florida
Peter Alden
An easy-to-use field guide for identifying 1,000 of the state's wildflowers, trees, mushrooms, mosses, fishes, amphibians, reptiles, birds, butterflies, mammals, and much more.

Purchases made by clicking the image link below help support this website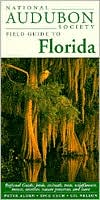 A complete overview of Florida's natural history, covering geology, wildlife habitats, ecology, fossils, rocks and minerals, clouds and weather patterns and night sky. An extensive sampling of the area's best parks, preserves, beaches, forests, islands, and wildlife sanctuaries, with detailed descriptions and visitor information for 50 sites and notes on dozens of others. The guide is packed with visual information. The 1,500 full-color images include more than 1,300 photographs, 14 maps, and 16 night-sky charts, as well as 150 drawings explaining everything from geological processes to the basic features of different plants and animals. For everyone who lives or spends time in Florida, there can be no finer guide to the area's natural surroundings than the National Audubon Society Field Guide to Florida.
---
For more information on this species, visit the following link:
Cornell Lab of Ornithology All About Birds page for this species
Date record last modified:
Feb 03, 2009