Click on the thumbnail to open the full size photo.
Click any of the thumbnails above to view the full sized photo in a lightbox.
Once opened, click on the right or left side of the images to scroll through the other images above.
Arilus cristatus
WHEEL BUG
Florida native
This large bug has a distinctive semicircular, vertical crest on the thorax that resembles a cog or gear having from eight to 12 teeth. This is the only insect in the United States with such a crest.
Occurring throughout all of Florida, Arilus cristatus is the only species of this New World genus that occurs in this country, ranging from Rhode Island through Iowa and Nebraska to California and south into Mexico and Guatemala.
Like other members of the assassin bug family, wheel bugs can inflict a very painful bite with their prominent, curved beak. If disturbed, they extend a bright orange scent sac from the rear of the abdomen. The overall length is 2.5-3.2 cm (1 to 1-1/4 in.) and the abdomen extends laterally beyond the folded wings. The front femora are thicker than the other leg segments.
---
Arilus cristatus is a member of the Reduviidae - Assassin bugs family.
---
Audubon Society Field Guide to Florida
Peter Alden
An easy-to-use field guide for identifying 1,000 of the state's wildflowers, trees, mushrooms, mosses, fishes, amphibians, reptiles, birds, butterflies, mammals, and much more.

Purchases made by clicking the image link below help support this website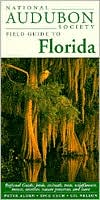 A complete overview of Florida's natural history, covering geology, wildlife habitats, ecology, fossils, rocks and minerals, clouds and weather patterns and night sky. An extensive sampling of the area's best parks, preserves, beaches, forests, islands, and wildlife sanctuaries, with detailed descriptions and visitor information for 50 sites and notes on dozens of others. The guide is packed with visual information. The 1,500 full-color images include more than 1,300 photographs, 14 maps, and 16 night-sky charts, as well as 150 drawings explaining everything from geological processes to the basic features of different plants and animals. For everyone who lives or spends time in Florida, there can be no finer guide to the area's natural surroundings than the National Audubon Society Field Guide to Florida.
---
Date record last modified:
Dec 14, 2006